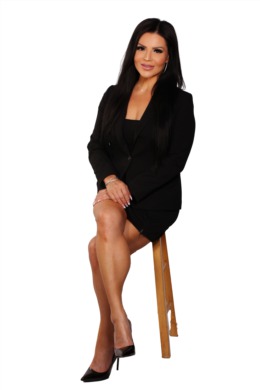 A knack for marketing, a devotion to serving others, an outstanding work ethic and a longtime passion for learning are the hallmarks of Mayo Starbuck's career. Mayo, REALTOR® in NV, based Las Vegas Dream Homes, doesn't take anything for granted. Having entered the real estate/ mortgage industry in 2005, during a period of Northern California's most explosive growth.
As early as her first days in the business, Mayo, a listings specialist, has applied groundbreaking techniques to real estate marketing and business development. "I've always been an early adopter," she says. Moving onto excelling in Internet Marketing, "I poured myself into my career and did as much education and research as I could in order to stand out," says Mayo. "I'm doing things differently than other agents, marketing from the ground up and staying ahead of the curve."
Her consultative approach to client relations proves that, if there's something new to learn, Mayo will embrace it.
Mayo places such great importance on marketing, "I market any home I list, the same way they market the multi-million-dollar homes," Noting that every house gets the full package, whether priced at $400,000 or $1 million. Before a home is listed, Las Vegas Dream Homes @ The Russell Haver Group conducts professional photography, videography and drone photography; the team then produces property-specific websites and four-page color brochures. "Our digital marketing gets the maximum exposure with SEO techniques and enhanced online placements. We're also doing target marketing and text-message marketing from signs and brochures."
All of this effort helps Mayo achieve her primary goal – happy clients. "I love being able to educate clients and to help people," she says. "It's about the person, not the money. Around our office we say, 'People before things,' and we know that as long as we're taking great care of people, the best will come." Mayo's vast experience enables her to be proactive, not reactive, during each transaction. "Our team has been in this business for years and closed so many transactions that we know what can go wrong!" She and the team create the best possible outcomes with the utmost professionalism. Clients notice, telling Mayo that the experience of working with her is smoother and more enjoyable than they expected. As a result, the word spreads about Las Vegas Dream Homes @ The Russell Haver Group.
"I want to continue to serve my clients and be the best I can be for them," she says. And despite how busy she is as a Digital Marketer, REALTOR® and mother of two boys, Mayo still devotes energy to supporting the community. "We've also hosted Las Vegas Business Review website, to give back to small business owners. I want to keep helping people however I can," she says, echoing a running theme behind her success.
Mayo lives in Henderson with her two boys and two pugs. In her free time, she enjoys hiking, yoga, barre, boating theme parks/ water parks with her sons and traveling.
Mayo aims to provide the highest level of customized service to her clients and takes deep pride in helping them achieve their real estate goals.